Simparica Palatable Tablets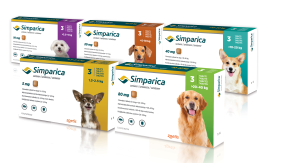 Simparica is a palatable tablet which provides consistent ecto-parasite protection for the entire monthly treatment period.
Fleas and the four key EU tick species are killed immediately and persistently for at least 5 weeks. Demodex, sarcoptic mites and ear mites are also treated with the monthly dose.
Simparica is a POM medication. Speak to your veterinary surgeon for further information. Further information for vets is available here.