Cydectin TriclaMox Pour On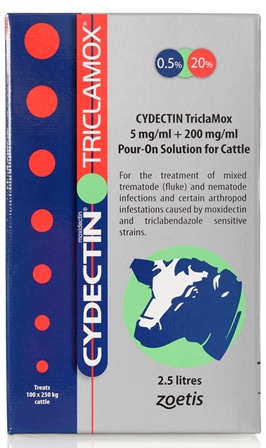 Cydectin TriclaMox Pour On is a 4-in-1 wormer for cattle. It treats
Liver Fluke
Gut worms
Lungworms
Lice
It can be used in any cattle that are not intended to produce milk for human consumption.
The dosage is 1ml/10kg.
Summary of Product Characteristics: Full product licence here
Animals treated with CYDECTIN TriclaMox Pour-On for Cattle from 5 weeks pre-housing to 4 weeks post housing will remain free of lice from housing to turn-out, so long as the management conditions are met.