News
ZOETIS ATTEND VICAS 2017

VICAS, the annual veterinary symposium for companion animal vets, held in Cork this year, always offers a great opportunity for Irish vets to get together to review and hear more about the latest developments in veterinary medicine.
This year the Symposium's main focus was gastro intestinal medicine and surgery with streams available for both vets and nurses. Lectures from both Irish and international experts were extremely well received by an enthusiastic attendance.
Between lectures attendees had the opportunity to meet with representatives from a variety of veterinary companies. Zoetis were delighted to be present to support the veterinary community at this important annual educational event. This year Zoetis ran a fun scratch card competition which was an excellent fit with our portfolio of innovative products for dogs which suffer with skin disease. Up to 10% of dogs attending veterinary clinics present because they have skin disease, often resulting in itching which can adversely affect the quality of life for both owner and pet.
Many vets have already used the new oclacitinib prescription only product for the treatment of canine allergic and atopic dermatitis which was launched in 2016 and have been delighted with the results. Prior to its launch there were limited options. Steroids, which are one of the most commonly used treatments often results in both short term and long term side effects.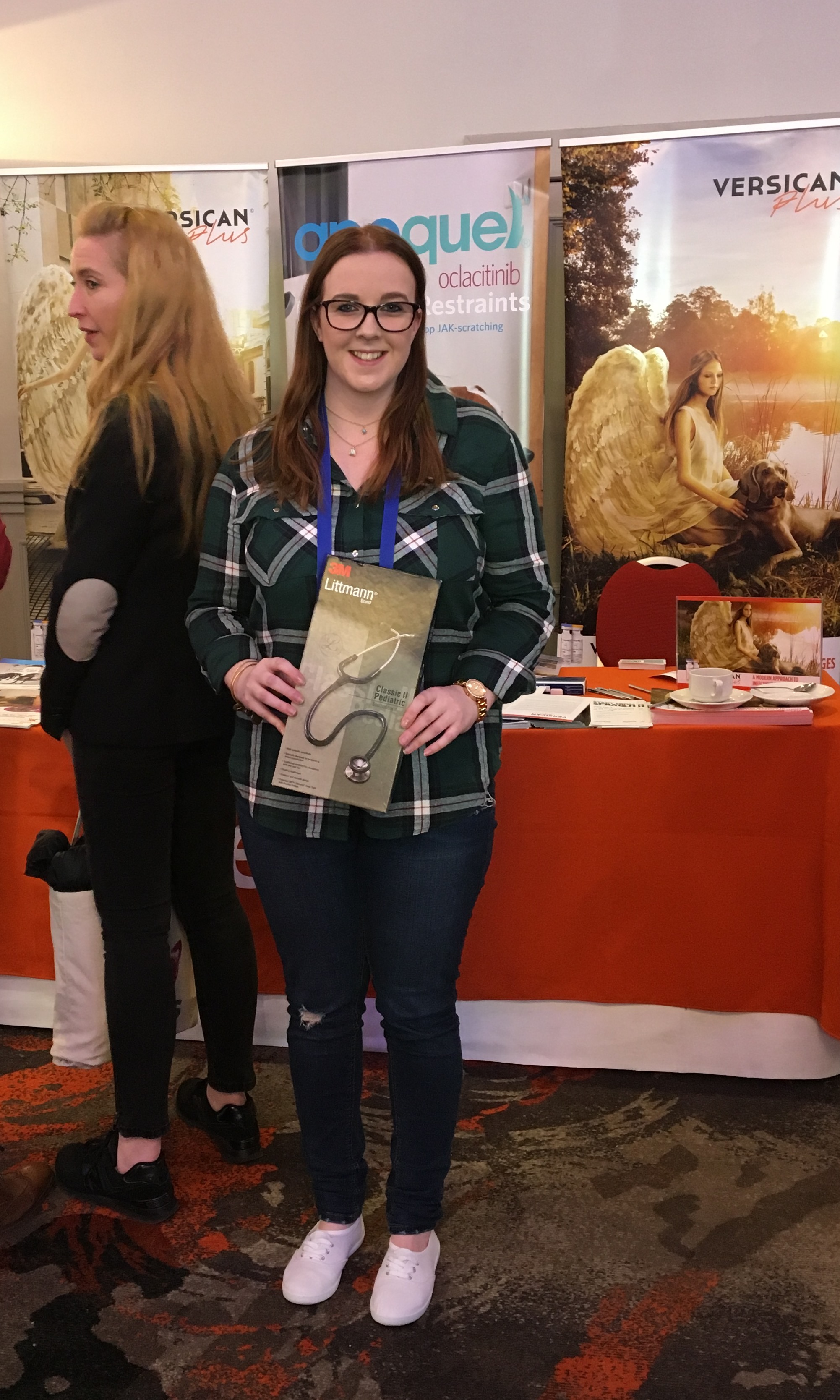 Norma Brady MVB, a new addition to the Zoetis Companion Animal Veterinary team was very well placed to further highlight opportunities for further use of oclacitinib, having used it in clinical practice and in her own family pets.
With many vets and their owners concerned about the increasing risk of ticks and tick borne disease such as Lyme Disease, both Norma and Senior Account Manager, Tom were also kept busy discussing the only tick product to kill more than 99% ticks found on dogs (based on available information from the UK).
Luckily time was found to take a few photographs to record Norma's 'baptism of fire' as an industry representative. Photo credits go to Tom!
National Dairy Show Millstreet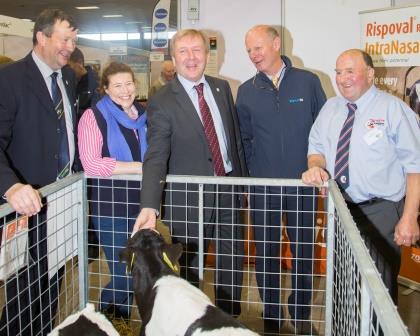 Zoetis recently attended the National Dairy Show in Millstreet where Charles Chavasse and Tom Duggan held a series of workshops on both calf health and IBR control.
The first 60 days in a dairy calf's life is critical in terms of lifetime productivity, with health status affecting daily live weight gain and influencing the animal's ability to maximise production over her lifetime.
Zoetis Launches Three New Innovative Products for Dogs in Ireland
Zoetis Ireland are delighted with the response to a series of veterinary meetings across the country at which they launched three new products for dogs in Ireland.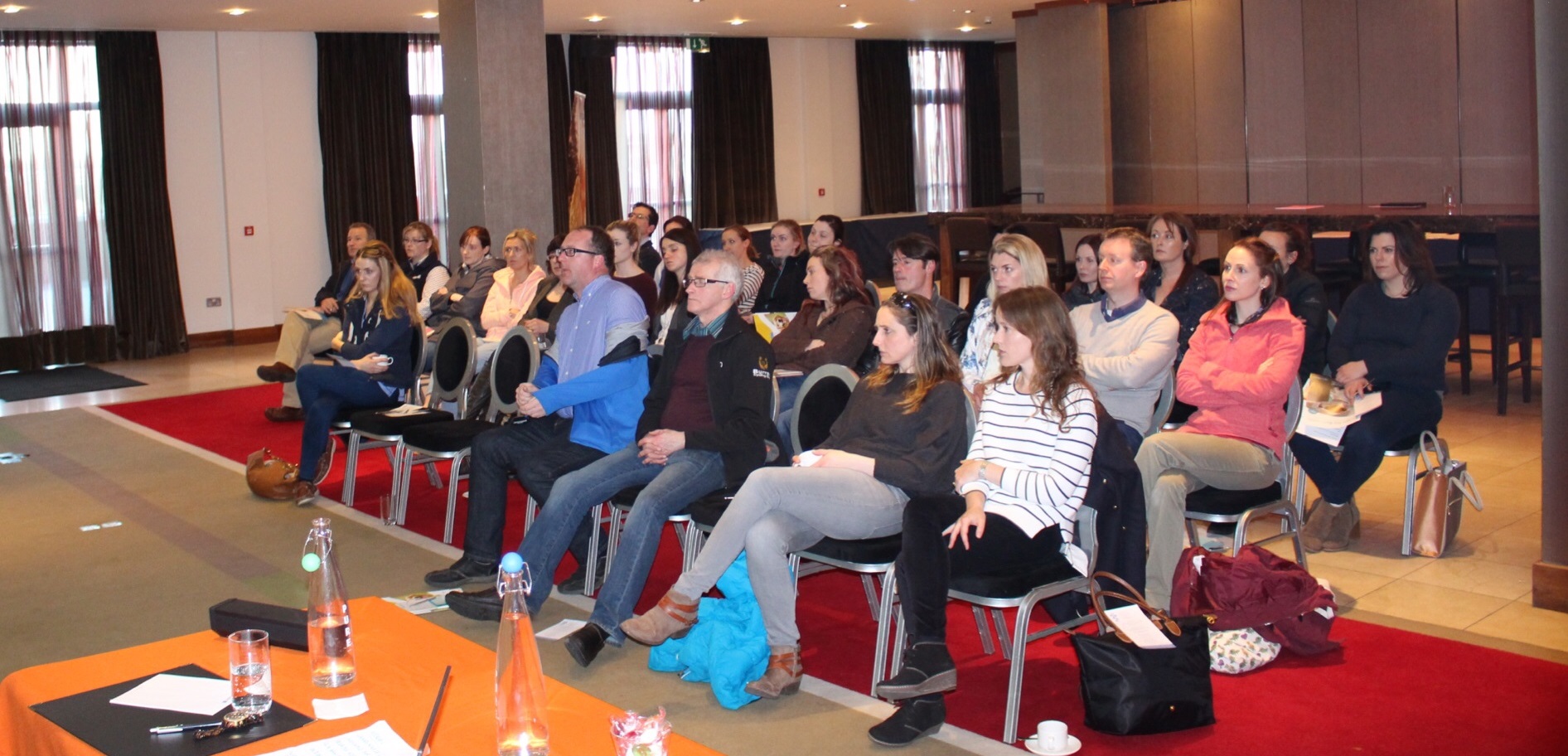 Meetings in Limerick, Cork, Galway, Dublin and Kilkenny offered the opportunity for veterinary surgeons to not only learn more about these new products, but also to discuss some real life experiences with colleagues who had already used the products.
Unsurprisingly there was great interest in Apoquel, the innovative new treatment for canine atopic and allergic dermatitis which has already proved so successful in the UK and USA. There is no doubt that Canine Allergic and Atopic Dermatitis, which are so commonly seen, can be incredibly frustrating for pets, owners and their vets. Uniquely, oclacitinib targets the JAK –STAT pathway, offering both a rapid and efficacious treatment option without the risk of short and long-term side effects which are so often seen with steroids.
Despite the large number of canine flea and tick products now available in Ireland the positive response to new POM product, Simparica, proves that there is always room for a new quality product. The advantage of Simparica is in its simplicity, offering a palatable option, where, irrespective of parasite species targeted, the treatment period remains unchanged. Furthermore, all parasite species are treated for at least 5 weeks, up to 5 days beyond the monthly treatment period. Both This reliable duration of treatment combined with Simparica's speed of kill throughout the entire treatment period minimises the chance for protection gaps against fleas and ticks occurring.
This monthly palatable tablet treats two species of fleas, but also four key European (and four American) ticks, sarcoptic, demodex* and ear* mites. Additionally Simparica is the only product licensed to treat Ixodes hexagonus, a vector for Lyme disease and Anaplasmosis, which is known to be very commonly seen in the UK.
The Versican Plus range is the first complete vaccine range to be developed for the European market in over 20 years, offering a range of benefits to dog, owner and vet, and has been available in Ireland since the end of 2015. Versican Plus vaccines are the only canine vaccine range to offer prevention against clinical signs of all viral components and the only tetravalent vaccine to deliver prevention against clinical signs and urinary excretion of established and emerging canine leptospirosis strains (except Grippotyphosa where prevention of clinical signs occurs but with a reduction in urinary excretion). The primary course can be completed from 9 weeks of age with earlier onset of immunity available. The Rabies component has also a three year duration of immunity, and can be included in a single injection with the annual booster.
*this is not a licensed indication but was shown to be effective as outlined in the Simparica SPC in section 5.1 'pharmacodynamic properties'.

APOQUEL IS NOW AVAILABLE FROM IRISH WHOLESALERS.
Why all the fuss?
Apoquel® is an innovative, rapid onset oral therapy for pruritus associated with allergic dermatitis and clinical manifestations of atopic dermatitis in dogs.
The launch of this product in the USA, UK and Germany was so successful in 2014, that demand rapidly outstripped supply thus delaying the launch of Apoquel®in other countries. We are delighted to announce that Apoquel®is now available for customers in Ireland from our usual wholesalers.
What is Apoquel?
Apoquel®contains oclacitinib maleate which is Janus Kinase (JAK) inhibitor. Oclacitinib inhibits the function of a variety of cytokines dependent on JAK enzyme activity. Most of these cytokines bind to specific cell receptors and signal through the JAK/STAT pathway, leading to a cascade of intracellular events that induce both pruritus and inflammation.
VICAS Conference 2016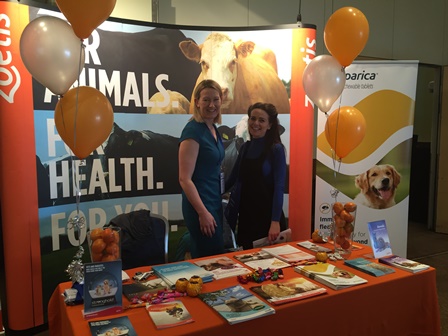 The Zoetis team were well represented at the 2016 VICAS conference held in the Radisson Blu Hotel in Galway. This annual event, which this year had a Gastroenterology, Neurology, Dermatology and Behaviour focus, was well attended by over 150 vets and nurses from all over the country.
With three new products to be launched for dogs within a 6 month period Roy, Anselm, Avril and Lesley diligently did their best to update a steady stream of vets who approached the stand over the two days. Versican Plus, the new canine vaccination range, continues to pique interest due to the unique benefits it offers to puppies and the fact that it is the only vaccine to deliver prevention against clinical signs of four Leptospira serogroups. Simparica may be a new flea and tick tablet which to date most vets will have been unaware. Nevertheless following VICAS, many will now be looking forward to a product which allows for the reality of human error, as its immediate protection has been shown to last for at least 5 days beyond the recommended monthly treatment interval. Further convenience is offered in the form of a very palatable tablet and additional activity has against sarcoptic mites, demodex and ear mites.
On the other hand many vets have been aware of Apoquel for some timeand the team were delighted to be able to confirm the imminent arrival of this innovative treatment for canine allergic dermatitis and atopic dermatitis to these shores. Success stories reported from the UK and beyond were supported in the dermatology lectures at the meeting and vets are now very anxious to get their hands on product. All of us who have worked in small animal practice know the frustration of trying to treat a chronic itchy dog with limited treatment options. Zoetis now offer a comprehensive range of dermatology solutions to treat ectoparasites, infections and allergies. Download a Step by Step Guide for Diagnosing Itchy Dogs here or contact Zoetis for an A3 poster for your practice.
UCD School of Veterinary Medicine Zoetis Veterinary Seminar Series
The Zoetis Seminar series kicked off for this academic year with an excellent presentation from Dr Clare Allen from the University of Cambridge on 'Feminisation of the Veterinary Profession -- opportunity or threat?'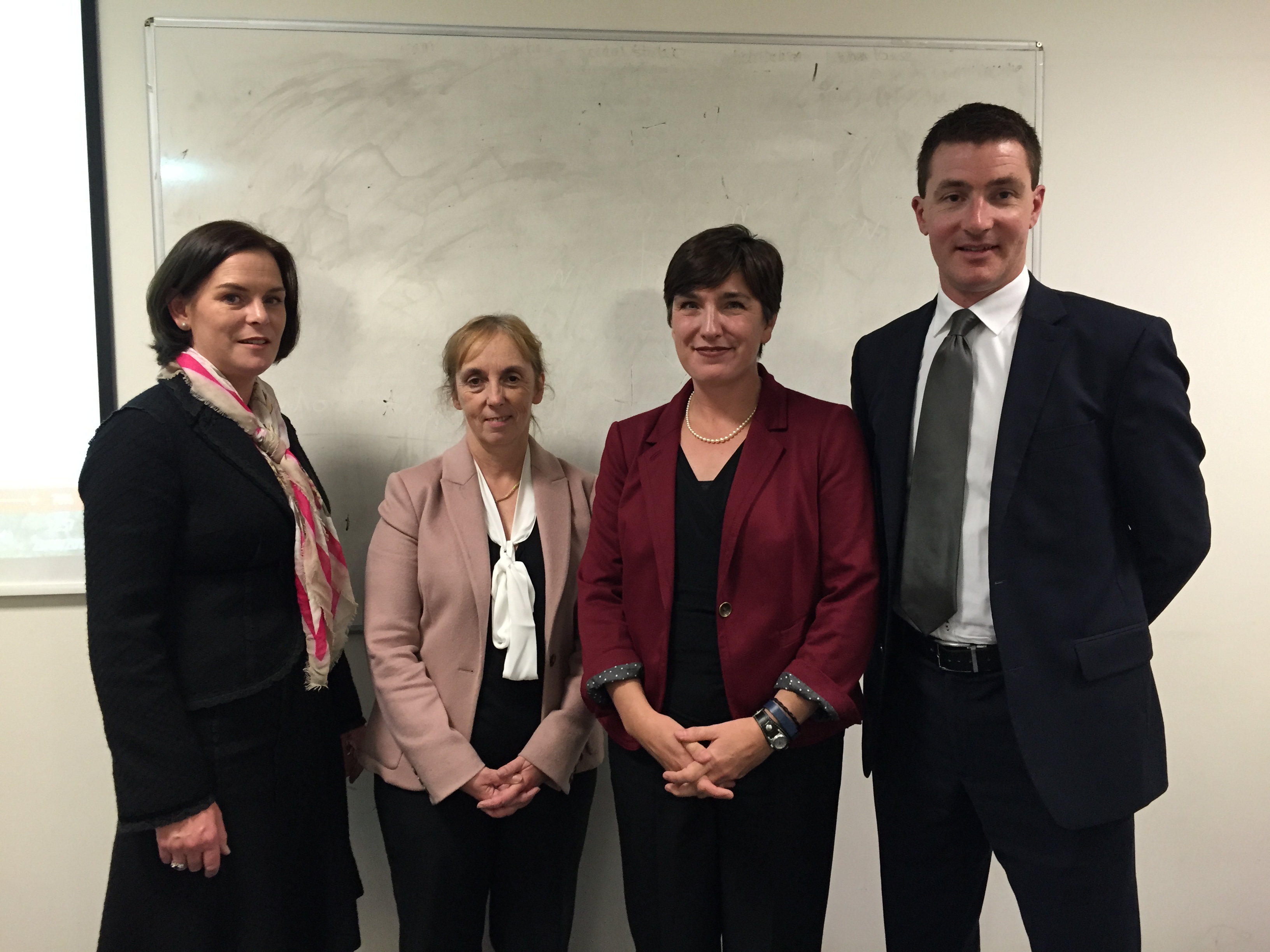 Pictured at the recent seminar at UCD were (L-R) Mary Newman, Zoetis; Prof Grace Mulcahy, Dean of Veterianry Medicine, UCD; Dr. Clare Allen, Cambridge University and Roy Geary, Zoetis, Ireland.
The talk was very well attended by both students and staff and a lively discussion followed Dr Allen's very interesting presentation.
Dr. Allen presented international research on trends within the veterinary profession, in relation to gender balance and perception of the profession by society. Notably she spoke of the status of a profession within society and how it is dynamic. How we as a profession interact with society dictates how the profession is valued by the people we serve and this is an ever evolving process.
When it comes to gender equality it is clear that unless there is equality in the home it is a challenge for female members of the profession to interact at the same level as their male counterparts. That being said many male members of the profession, in particular more recent graduates, do aspire to achieving a better work/family life balance and thus the profession is evolving to provide a better working environment for an improved quality of life for all. With shared maternity/paternity leave a distinct possibility over the next few years in Ireland, all employers will soon be able to interview perspective employees based on professional ability alone, independent of the risk of one subset potentially disappearing from the workplace for 6-12 months.
Zoetis are delighted to be associated with the UCD School of Veterinary Medicine Zoetis Veterinary Seminar Series as Professor Stephen Gordon and his team invariably deliver interesting and thought provoking seminars which are well attended by both staff and students alike.
Dr. Clare Allen graduated from the University of Cambridge's Veterinary School in 1996, and did an equine ambulatory internship at Millbrook Equine Practice in New York state. After completing her internship, and working for several different equine practices, she started teaching in an Equine Studies Program at Cazenovia College, New York, and founded her own equine practice in the area. In 2005 she started teaching at Cornell University's College of Veterinary Medicine, and became interested in veterinary education and curriculum development. This lead her to apply to the doctorate program in the School of Educational Policy and Leadership at The Ohio State University and she completed her PhD there in 2013. Clare recently returned to Cambridge to continue her work on outcomes assessment, curriculum development and the career choices of vet students, as well as teaching equine husbandry and handling.
To view a recording of the seminar please use the link below:
https://media.heanet.ie/page/62ef31e47093cecdf03a0c86f941ed15
The Agricultural Science Association of Ireland has awarded its inaugural Novus award to Roy Geary of Zoetis.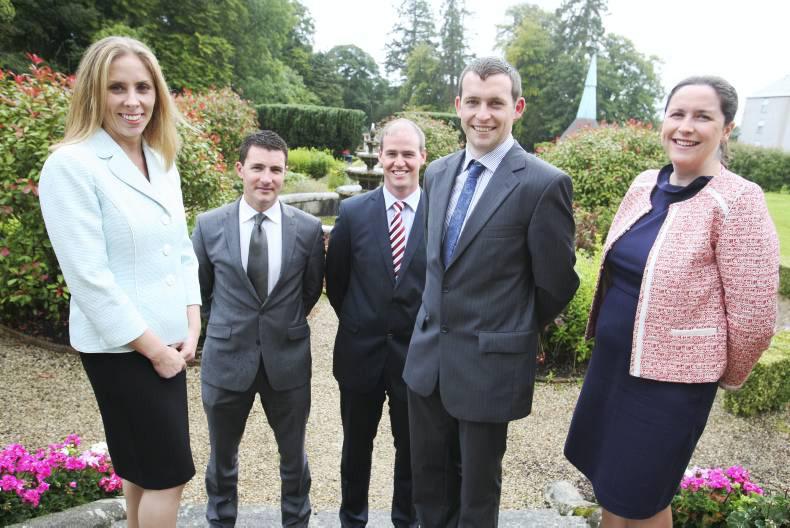 ASA Novus Award winner Roy Geary of Zoetis (second from left) is pictured with the other finalists (from left): Dr. Karina Pierce, UCD; Dr. Stan Lalor, Grassland AGRO; Paidi Kelly, PhD student Teagasc Moorepark; and Dr. Anne Finnegan, AIB.